I'll admit I was not really a Prince fan before I went to this show. Back in 2008 I tried to get tickets for me and two friends off Craigslist to Coachella where Prince was headlining and I got scammed out of the tickets and 400 bucks. Since that Coachella I have really been dying to see Kraftwerk, Portishead, and Prince.
When the tickets for Prince came out it was kind of a generous gift to myself since they were close to 300 bucks for a decent seat. That week I saw Chromeo, Godspeed You! Black Emperor (Twice!), Odd Future and Prince. Easily one of the best concert weeks of the year.
As soon as Prince came on I was convinced that this man was a God of his craft. He deserves all the hype, legend, and ego because he is an amazing musician. He had a commanding stage presence and played the guitar better than I ever would have imagined. He also did a lot of costume changes and cool tricks like throwing his guitars in the air for poor workers on the ground to catch.
The best part of this show however has to be the fact that it was the greatest encore I have ever seen live. He came out for FIVE encores! Like literally it got to the point where the Oracle put on all the lights, even the advertisements and people were still clapping and cheering like crazy and he came out with all the lights on still. Since he owned the crowd so hard they turned down the lights again and put the stage lights back on. Such an epic performance from one of the world's greatest performers.
9. Interpol 1/31 (The Warfield, San Francisco, CA)
At the beginning of the year I was starting to realize that 2011 could be the year where I accomplish most of the concert goals I have always thought to be impossible. At this point I already had my ticket for Godspeed, a band I never thought would come together again. Also, I was heavily following Interpol's setlists and saw that they started playing The New for the first time since 2003 in Europe.
For those who don't know, The New is Interpol's best song and possibly one of the greatest songs of all time. Ramzi and I have always said it would be the greatest song we will never see live. Needless to say, it was an absolutely mesmerizing experience to see it right in front of me, seeing Daniel Kessler and Paul Banks tune their guitars down and up just gives me goose bumps to think about.
On top of all of that, they played the song "Safe Without", which has to be maybe one of about 5 times they have ever played it live. This was very special to me because I had recently moved home from UC Davis and the song that I would always blast to help me get through leaving Davis was Safe Without.
I have seen Interpol 7 times now and this was the most special show to me.
8. Kylie Minogue 5/22 (Caesar's Palace, Las Vegas, NV)
I have had a crush on Kylie since she played Cammy in the shitty 90's Street Fighter movie. Like everyone else, she infatuated me with the track "Can't Get You Out of My Head" and has had many other great songs since then. I always have her on my wishlist for Coachella and knew I had to see her if she ever came to the states because she likes to stay in Europe.
About 4 years ago she was diagnosed with breast cancer and that ended up putting her in the category of live acts I will never get to see. When her Aphrodite tour in the US was announced I was ecstatic and bought tickets to her Vegas and Hollywood Bowl performances so I would have a choice on where to see her for the first time. Making the choice to see her in Vegas marked the beginning of the trend of me crossing state bounds to see live acts this year. I continued that trend with Lollapalooza and Jeff Mangum (Chicago and Boston respectively) and next week with Holy Ship!
After her performance we went to the nightclub TAO where Rihanna was having her Billboard Music Awards after party. At that we saw Black Eyed Peas and briefly I saw Joe Jonas, Beyonce and Jay Z. Jay Z had changed his hair style which was the first indication I saw that WTT was completed which was pretty awesome. Great weekend all around.
7. Odd Future Wolf Gang Kill Them All 2/22 (Slim's, San Francisco, CA)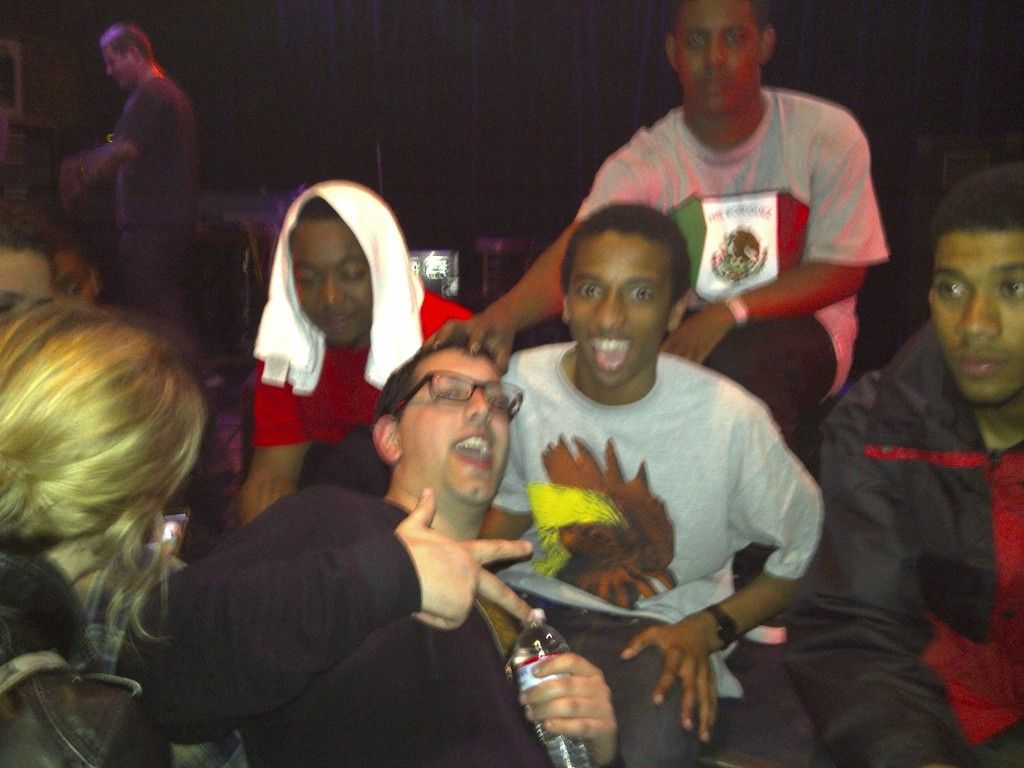 In November of last year I was starting to get interested in what new underground rap was coming out. I found a thread in the Coachella forum about it and a few names kept popping up including Lil B, Earl Sweatshirt, Big KRIT, and Tyler the Creator. This was the start of my introduction to Lil B and unknowingly my introduction to Odd Future. I heard Earl and French a bunch of times from there but I had no idea what Odd Future was. Once the Coachella poster came out and OFWGKTA was on the lineup, another thread popped up on the forum explaining who every member of the collective was. I was pleased to see that Earl and Tyler were in the same group and that they would be at Coachella.
A few weeks later Tyler and Hodgy did their legendary performance of Sandwiches on Jimmy Fallon's late night show. Two days later was this show in San Francisco. This show was back when OF had only one shitty T shirt on sale that was clearly something they did at a print shop for cheap with Costco white T's. Now they are headlining festivals with Wu Tang! It is so nuts how far these kids have gone since last year.
The crowd was so rowdy for this show; I literally got moved to the front without even trying just because of how nuts it was. I will always remember Tyler pointing the mic to the kid right next to me who rapped an entire verse of a song. So epic! Tyler was sick that day and kept leaving the stage to puke which made it even more awesome. GOLF WANG!
6. Godspeed You! Black Emperor 2/19 (The Warfield, San Francisco, CA)

Godspeed is one of those bands I have always heard nothing but underground legend when it came to their live shows. Only a handful of people had ever seen them live before and it had been many years since they broke up. Being that they are a 9+ piece band it seemed as though they would never tour again.
Of course as soon as I heard about this show me and my closest friends bought tickets because we all had our stories and reasons to need to attend this show. They played an amazing setlist and mesmerized the crowd for two hours straight with no encore. Exactly how I always envisioned seeing them live. The only bad part about this for me was that they performed 3 nights in SF that weekend, I went to two, and the only night they played my favorite song of theirs was the night I did not attend. GAH! I have to see them again to hear that song!